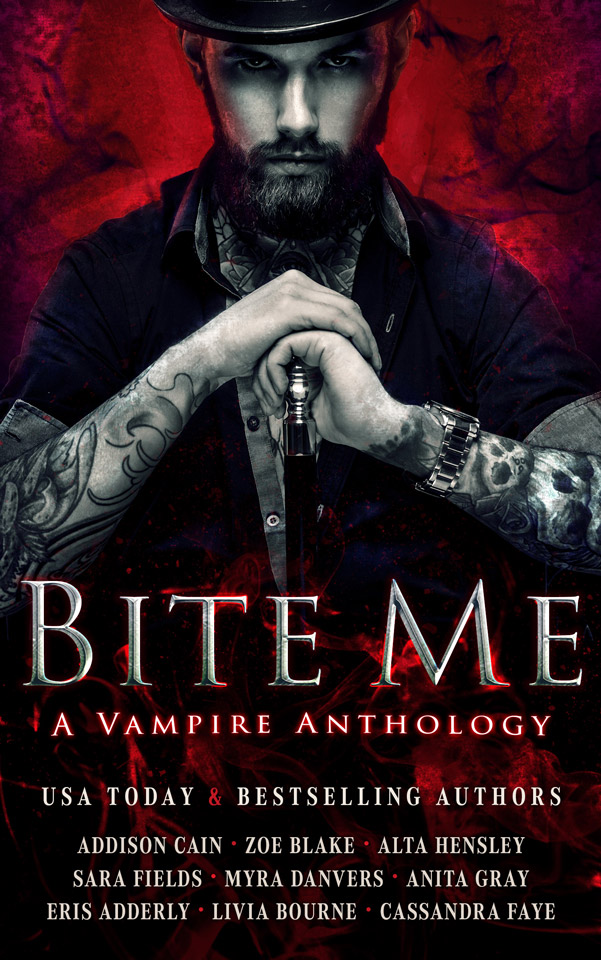 [icon_box icon="icon-info-sign" icon_color="#8E0301" icon_position="left" title="UPDATE" align="left"] The Bite Me anthology was a limited run publication…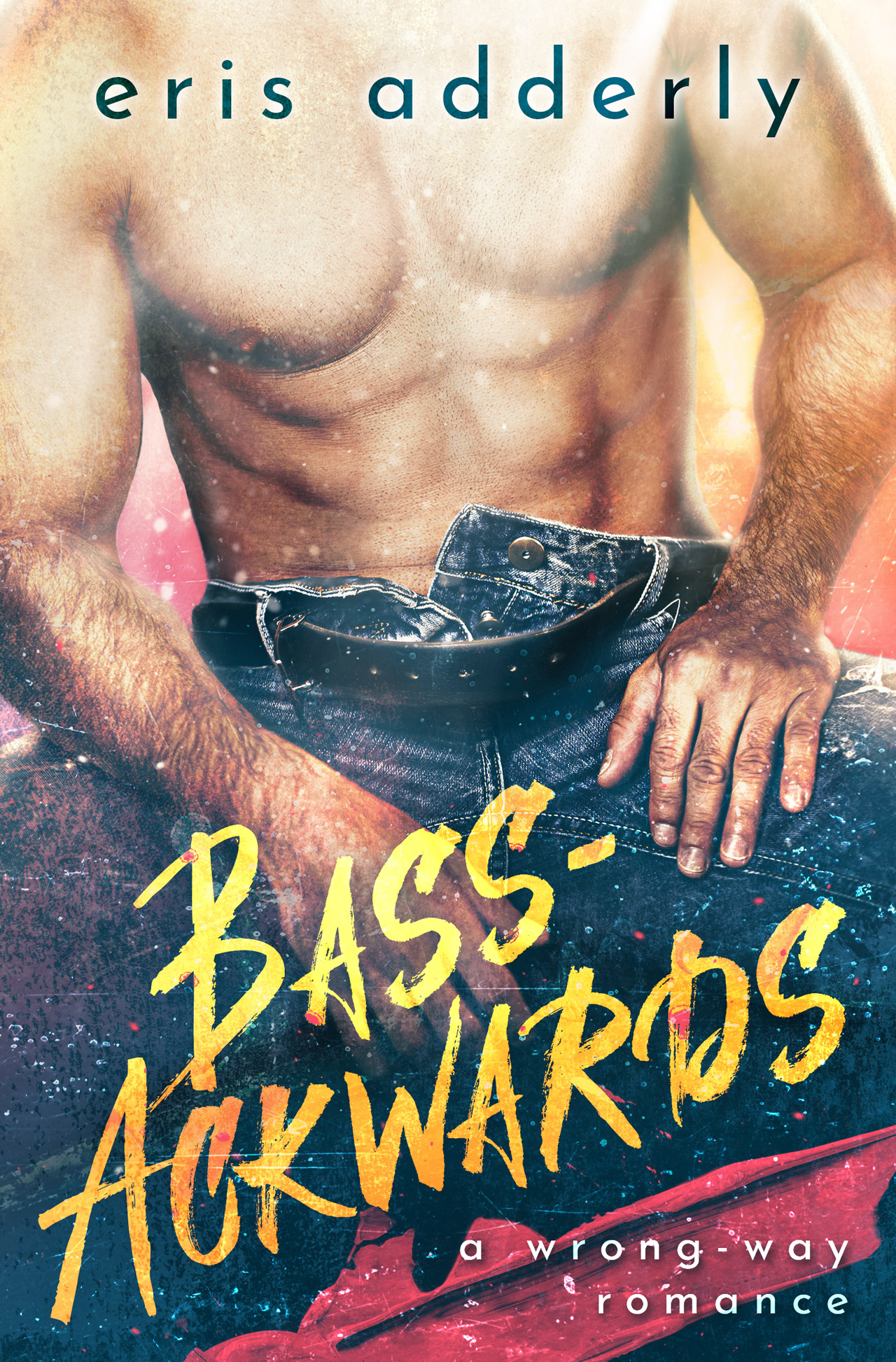 I don't normally write Contemporary Romance, but when I do ... you get *this* inappropriate book.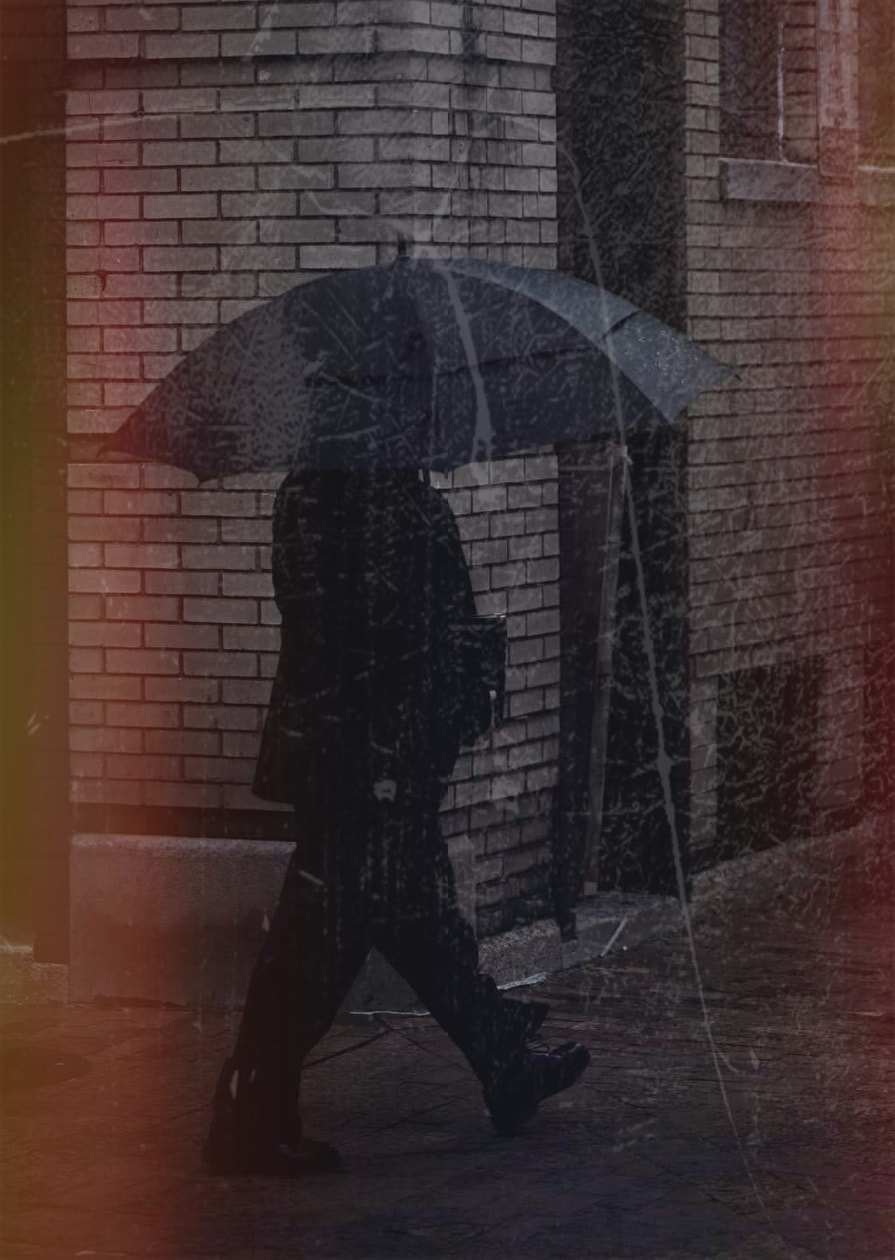 You didn't do a damn thing to stop her, either. Just sat there like a pervert. Grabbed her hair.
★★★★★

"Vampire stories aren't a go-to for me – it was the authors in this anthology that got my interest. However this story has changed my mind. Vamps aren't the all powerful evil beings you find in most stories, I FLOVED how the author has taken the genre, shaken it up with a big old dollop of seasoning and presented something completely new and captivating. The anthology is worth buying for this story alone."

~ Louise H

★★★★★

"A new author for me, I'll be looking her up. Set in the future this is a fresh look at the tale of vampires. Wonderfully constructed world, beautifully paced writing with twists and turns and a reveal at the end that leaves you desperate for more. Completely captivating, highly recommend."

★★★★★

"This one certainly took me by surprise. There is a smorgasbord of delicate circumstances going on here. In this plethora of flavors to sample, we have prejudice, anger, treachery, attempts at redemption, misplaced suspicions, conspiracies and unexpected heroes. Our couples' sexual tension is so strong it leaves you breathless and barely able to stand. Oh, this is no run-of-the-mills ordinary vampire novel. This is a Sci-fi, Suspense, Thriller and a Comedy with a touch of Porno mixed in for good measure. There are bouts of healthy intense competition to push your limits to the edge. You'll need something cold, a cold wet rag, a tall cold glass of SOMETHING! to drink or maybe even an icepack but, definitely something cold because it's certainly hot in here!"

~ Moyae

★★★★★

"Just take my money. All of it. This story was a little bit of everything. This was like V is for Vendetta but only with vampires. Knowing that this was just the prequel?! HOLY TITFIRE! The world building in this one was incredible. I am gobsmacked. Add in one of the hottest scenes that I have ever read, and I was done for. I am not sure if this will continue in the other books, but I am actually not sure if I would be able to choose Radoslav or Leo even though LEO is incredible. November intrigued me. I am anxious to see how this unfolds in the future story. For a prequel, this book definitely paved the way for answers as to why the Vamps had been forced to live underground."

~ Ri

★★★★★

"This was soooo bloody good! It was hot and dirty and super sexy in every way you've ever wanted an incredibly well-written story to be. THIS is what you've been missing, folks. Honestly, I can't even with Eris Adderly. She's a writing wizard who sees the laws of what should and should not be—and then just blows right on by them, because she makes her own damn rules. Cannot recommend his book enough. 25/5 stars… which is to say… I plan on reading it over and over… and over…"

~ Myra Danvers, USA Today Bestselling Author of The Last Tritan series

---

★★★★★

"An incredibly rich and powerfully good novel. … This book is a tour-de-force, and one that I cannot speak highly enough of. … The dialogue is as crisp, sharp as anything I have read recently, and it sucks you into the story so well that you suddenly find you are so much farther along in the story than you expected because you've gotten so caught up in it. … It is just such a compelling, incredible story in so many ways that all comes together in a story that pulls you along without ever letting go."

★★★★★

"I don't even know where to begin with how incredible this story is. Ms. Adderly's ability to craft words into magnificent prose is simply astounding. The Last Dominant is rich with Sci-Fi and Fantasy themes while giving readers a delicious romance tinged with sultry D/s tones. The characters are well rounded and fabulously dimensional. My only complaint is that it ever had to end.."

★★★★★

"I will be reading more of this author's work based solely on this story. I cannot imagine how the author came up with it but it both haunting and demented."

~ Adagio

★★★★★

"This was actually the first book I've read by this author, but I can promise you it won't be the last! This is actually a prologue to a new series she's writing, and I can't wait to get my hands on it! This was dark and twisted and deliciously depraved! … I highly recommend this story, and series."

~ Shelli

★★★★★

"… A Sinner in Virtue is disturbing dystopian religious cult meets wild west saloon holy sh– did I just read that! I can't wait to read more about this world!!"

★★★★★

"… felt like a new vision of Mad Max meets the Wild West. … it takes on a decidedly wicked feeling where hope no longer exists."

~ KDLW

★★★★★

"… gritty, raw and unrelenting in its deviance and the pursuit of balancing sin and virtue in equal measures. It was a shock to read that's for sure, it was darkly erotic in places as well as disturbing. It was a different kind of dark this one. The writing was excellent and I was hooked on the story and the character Buckeye."

★★★★★

"… Eris introduces us to a whole new post apocalyptic world. … It is a haunting tale of of strength, with a twist of taboo, despair, knowledge, fear, pain and acceptance. You will question yourself. What will you do to survive?"

"No matter I have heard it before The Eighth House felt fresh, giving us a new slant to this popular myth. Even knowing the ending before-hand didn't take anything away from this experience I was still enthralled throughout, reading this in record time."

"The Eighth House is a wonderful book. Not only is a good retelling of the Persephone/Hades myth, you get a book with a great plotline, wonderful descriptions, and hot sex scenes. … You'll want to read it over and over."

~ In Between the Pages book review blog

"Entertaining from start to finish, a beautiful, complicated romance between two very engaging personalities. … I was on the edge of my seat. My favorite tale of 2016"

~ Addison Cain, USA Today Bestselling Author

"The 8th House is one of the most powerful renditions of the Greek pantheon I've seen in romance in a long time. Adderly's lush language and penchant for hot sex with a fun dose of political intrigue makes this book an all-night, stock-up-on-batteries page turner!"

~ Jennifer Bene, USA Today Bestselling Author

★★★★★

One of the best fantasy novels I've read this year.

"I found this to be a HIGHLY engaging read, one of the best fantasy novels I've read this year. … the world is bright, colorful, engaging, and well-described, with vivid details that make it an absolutely enthralling read. … If you like fantasy and erotica, this is a book you'll definitely enjoy!"

~ Andy Peloquin, author of The Last Bucelarii series

---

★★★★★

A distinct and chewy fantasy world.

"Eris Adderly has a strong command of her fantasy world and its inner logic from the very beginning and throughout this first book … This is a drama with many, oh-so-human elements in it … The narrative is not dense or pretentious in the least (and the sex is complex, varied, and has real bearing on the plot … The details matter, and they invite questions about how the world works."

---

★★★★★

When is HBO going to pick this up as a series?!?!?!?

"Like A Song of Ice and Fire, that's what I thought while reading this book. …  The protagonist is a pure bad ass who is not an arrogant twat but has been humbled by his experiences. … If you want a light read, look elsewhere, but if you are in the mood to be transported to another world I highly encourage you to invest some time in this book. I was thoroughly captivated from page one of this book."

---

★★★★★
"If you loved "Beauty and the Beast" you will love "Gallows Pole"…"

---

★★★★★
"The writing is beautifully gritty. The descriptions of the time period take you directly into each scene and don't let you go until the chapter is over. Excellent work. Full of unexpected twists and turns."

---

★★★★★
"This story was just superb, from the spot-on world building to the realistic characters. I'm feeling all the feels and spouting all the good adjectives, and I'm off to find every other thing this author has written!! Loved it!!"

---

★★★★★
"I am obsessed with this story! Entertaining from start to finish, a beautiful, complicated romance between two very engaging personalities. Emmat is a wild, self-possessed criminal, and the Hangman… he's intriguing and mysterious, sensual and captivating. I was on the edge of my seat. My favorite tale of 2016!"

---

★★★★★
"I love this story! Eris Adderly's writing is always top-notch, but the thing that stood out for me in this story was the story theme – love isn't just for the pretty people. Bridget is pock-marked and plain, John is missing a leg. These two people don't think that love is for them, but love finds them, nonetheless. The book was sweet and steamy, and an excellent, page-turning read!"

---

★★★★★
"I loved this story! Real people in a fantasy world, not the fairy tale couple but the couple that you might have overlooked without Eris Adderly's expert writing to bring them to vibrant life. Every scene is ripe with development which makes a rather quick read full of spirit! John Bone is the kind of guy you hope you'd run into at the local bar, and he can cook (win!) and Brigit is the girl you'd want to show up at that bar with. Real people who can definitely have some hot, sexy fun! Throw in some pirates, salty talk, and life on a ship? Who wouldn't want to live a while in this world?!"

---

★★★★★
"I don't want to gush, but… HOLY hot roses! This book is so good! I'd read her work before, but I was really stunned by the quality of the writing— it's some of the best writing I've read in ANY genre. It's well-researched, the story is compelling, the characters are terrific (I have a serious crush on Benjamin), and all of the above act as a believable backdrop for some very hot sex scenes. I was actually surprised by the sheer wealth of sex scenes, as well as the author's ability to integrate them seamlessly into the story. It never feels unnatural.

Fair warning: Do NOT try reading this at work!"

---

★★★★★
"This story, for me was a page Turner. It has STEAMY SEX, Humor,and heartache. I found it to be a Great Read."

---

★★★★★
"Ms. Adderly is now on my auto-buy list."

---

★★★★★
"Eris Adderly has a gift of drawing the reader in with her word play, whether it's leaving you panting from elegantly erotic descriptions or laughing at a bit of well timed humor."

---

★★★★★
"There is a tongue-in-cheek charm in most of Eris Adderly's writing for several good reasons: she does her research, she enjoys her characters, and she allows her quirky humor to come out in the right places. … Ms. Adderly is a very intelligent writer with a remarkable humor. Her quality is consistent in all her works as she cares enough to do it right."

---

★★★★★
"Beautifully written, wonderfully paced and had me on the edge of my seat from beginning to end. … Deliciously dark and wickedly woven, I will certainly be reading this tale again and again. "

---

★★★★★
"It's disturbing, and dark, but also sad, sweet and amazing. I loved this story and in some ways it is the best example of Eris's writing abilities that I have read so far (and I think I have read everything she has published) because it feels so, so real and it is so very clever."

---

★★★★★
"Ms. Adderly's writing is brilliant – she uses colorful, descriptive language that keeps to the period without fail, and creates intriguing characters that you come to root for right from the start. This story is romantic and realistic at the same time, and the juicy scenes serve to remind us all that imperfect people can have damn crazy hot sex just like the best of them! "

---

★★★★★
"I found myself staying up WAY TOO LATE because this book is HOT. But it's not just a bodice ripper of sexy proportions, no, each character actually has (Dare I say it about erotica?) … development! A back story! Emotions and characteristics that make you care about them! … The end is also super badass and made me want to high five my kindle. You'll love it, I swear."

---

★★★★★
"… apart from the juicy sexytimes that I want to savour forever, we also have a feisty female lead who thank goodness isn't a meek annoying woman (can't stand those), a brilliantly well written plot, scary villain, and all round perfect read. I can't imagine anyone being disappointed reading this, in fact I suspect it will become a fast favourite of anyone who loves romance, sex, adventure and great storytelling. "

---

★★★★★
"There is a tongue-in-cheek charm in most of Eris Adderly's writing for several good reasons: she does her research, she enjoys her characters, and she allows her quirky humor to come out in the right places. … Her quality is consistent in all her works as she cares enough to do it right. I recommend this book as well as the other stories she's written. The writing is meant to get one hot and bothered (and it did for this reader), but if you've an interest in using your brain as well, you are rewarded richly for giving her a try."

---

★★★★★
"Hard, hot, dirty-talking pirates with questionable morals, dark secrets and no problem sharing? Oh yeah, there's all that AND a captivating story as well. It's like your grandmother's bodice ripper but with threesomes, dark moments and tattoos."

---

"I love how Eris draws you into her characters' heads and makes you feel like you're there and part of it all and when she writes sex, she has a way with words that pulls you into the scene and makes you feel it like you are experiencing it yourself. She just has this way of describing situations and feelings that is spot on. And even though this story is dark, it's also touching and sweet and romantic and I couldn't stop reading it. Right up until the last paragraph I didn't know how this ride was going to end, and I won't spoil it, but wow!! It was so good."

~ Clare A., Amazon.com reviewer

★★★★★
"The Devil's Luck has everything I want in a good read, and is without question, the hottest pirate-themed book I've ever encountered. Eris Adderly weaves a flawless plot, complete with historically accurate facts and settings, accents, and clothing (as frustrating as all those layers are, at times!) The writing is spectacular and makes for and incredibly enjoyable read, even without all the hotness permeating every single page. Of which there is great abundance, due to the DUO of sexy pirates I've come to love more than is healthy or normal. … What's more, the ending of The Devil's Luck will leave you not with a book hangover, but with this happy glow that won't leave you for days."

~ Myra Danvers, Author of The Last Tritan

---