WIP Excerpt: CH 6 of An Emperor for the Eclipse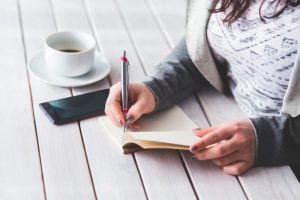 I haven't abandoned you. Aside from being hard at work, frantically trying to get The Devil's Luck ready for publication this month, I have been intermittently scribbling away at the next installment of An Emperor for the Eclipse to go on Literotica (with helpful stock image of what a woman writing may look like. Although I don't drink coffee. Yech.).
At the end of chapter five, (moderate spoilers ahead!) the Release Rite met its conclusion and now we're waiting for Raothan to meet Niquel, and Bellora to meet General Ayzhus. I have about 7,000 words of the new chapter under my belt, and as proof, I thought I'd share a snippet with you.
When is this going to be done and ready for Lit? I don't know! My best guess is maybe 3 to 4 weeks, because life just isn't letting me work on this thing every single day as I wish I could.
Hope you enjoy! See you soon!
An Emperor for the Eclipse, Chapter 6, Excerpt:
There she was, standing in the center of the receiving room, arms crossed over her ample chest, weight on one unimpressed hip, scowling, glorious. Kadrian almost forgot to close the door all the way behind her.
The guards had probably told the Novamnean woman to kneel, but Kadrian could already tell from the flavor of the answers she'd received at the Release Rite, the swearing after her pardon, that this particular spitfire would be having none of that.
Would it diminish my authority if I rubbed my hands together in glee?
"I'd tell you to stand, but it looks like you've already got that much sorted out," she said, sauntering over to her opponent for the night. They'd clothed her in slaves' garb, a demeaning move, to be sure, but that didn't stop Kadrian from lapping at the shorter woman's curves through the sheer fabric with every conspicuous movement of her eyes. The way the chain connected to the collar disappeared between her breasts and beneath her crossed arms was distracting to no end. The woman continued to frown and kept a sharp eye on Kadrian's every move.
"You always have such an angry face when someone saves your life?"
This received something akin to a snort, and the pretty, heart-shaped face swiveled around like an owl's to watch the general as she circled. The general did nothing to conceal her appraisal of the woman's body.
"Found out you were destined for the Sack," Kadrian said once she'd made a complete circle. "You're going to tell me this'll be so much worse, liathri?"
Hands went to hips, exposing dark, flat nipples on full, heavy breasts. Kadrian wanted to bite a knuckle.
"One"—her charge spoke for the first time—"my name is Bellora, not 'half-breed', General, and two, no, I wasn't exactly looking to enlist in Kadrian's Other Army. You should've chosen someone who wants what you've got."
"And what have I got, Bellora?" she said in a low voice, stepping into the other woman's space so their bodies almost touched. Kadrian smirked down at her collared prize.
"A reputation."